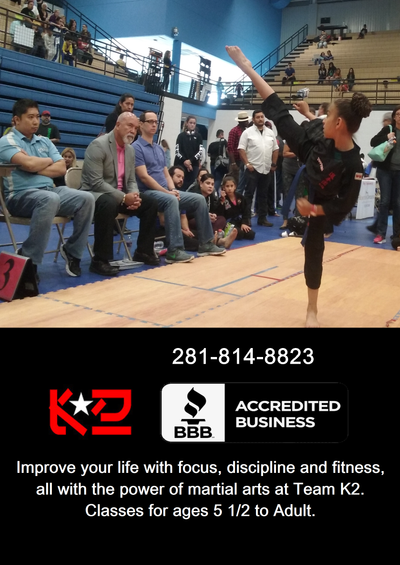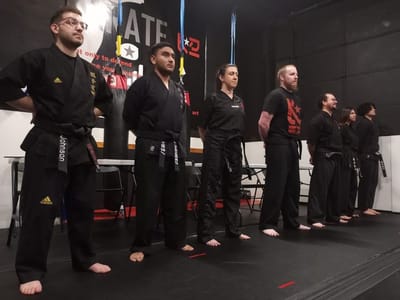 TEST YOUR MIGHT.
For over 20 years Team K2 Karate has been teaching martial arts to men, women and children of all ages. Our classes are divided by age, size and belt level all with the same goal in mind, to learn quality martial arts, improve confidence, focus, learn self-defense and improve fitness with the power of martial arts at K2.
RESPECT.
Yes, sir and yes ma'am while training in a clean, family friendly environment has has always been our way over the years with a solid curriculum and belt ranking system that is suitable for ages 5 and up.
KARATE WITH A PURPOSE.
Here at K2, we like to think of martial arts as a way of life to improve everyday life. Releave stress, work on overcoming challenges, setting goals, developing leadership skills and building confidence. Our martial arts system includes Kata, also known as forms, to help develop focus and dedication, self-defense, using knees, elbows, feet and hands for striking while also working on takedowns and mutable attacker self-defense. Sparring to help improve timing, distance management, blocking and counter striking.
DISCIPLINE & FOCUS.
Training at K2 Karate involves discipline, self-control and perseverance, although this can be very challenging sometimes for a new student with focus problems and take months to improve, but with time spent on the mat and consistent training most all students overcome these issues and become great students while learning lifelong skills.
TAKE A FREE TOUR.
During your tour you will meet the instructor, do a few drills, get out on the mat for a partial warm-up, go over class days and times while taking a walk around our dojo. Remember not all martial art schools are alike, this is the purpose for our free tour, we always meet our future students before they set foot on mat and make sure this is going to improve their life, teach them how to defend themselves and find a class that best suits their needs.

PRIOR TRAINING?
New students with past training experience will be evaluated during our free tour to find out which class is right for you.
CLASSES
K2 Little Kickers.
Ages 5-7 yrs.
A great first time Karate class just for this age group for girls and boys that focuses on learning basic martial art techniques which consists of traditional stances, hand strikes, blocks and kicks all while improving focus and respect taught at a pace devolved just for this age group.
Beginner Kids.
Start your training in Karate with a strong foundation, improve focus, self-confidence and fitness while working on the core of our system that includes stances, blocks, hand strikes, kicks, self-defense, kata and sparring. This class is for first time martial arts student with no prior experience. Start your climb at K2 towards a Black belt one day while learning lifelong lessons along the way.
Teens and Adults.
A class that involves the same primary techniques as our kid's class but with a bit more discipline and fitness conditioning. First time teens or adults just starting out, this is the class for you. Take the time and make an appointment for a free studio tour so we can go over any questions or training concerns you may have before you get started. Class also includes sparring, bag training drills and self-defense in this ranking class.
K2 Advanced Karate Classes.
We also offer classes for kids, teens and adults that are more advanced for higher belt level students who have been training longer in the martial arts or for new students who may have trained in the past that are looking to get back into it. Most all students in our advanced classes have been training 3-5+ years in the martial arts and work on improving skills in kata and sparring while also working on achieving their belt requirements for the next rank.
EXTRA CURRICULUM K2 CLASSES
Sport Karate Weapons Class.
Learn some ninja turtle moves in this class every Friday at 6:30 to 7:30PM. Students must sign-up for this class which is designed for students interested in learning the Bo staff or Nunchakus while also working on creative moves or for the student who is interested in competing in sport Karate tournaments. (you must sign-up for this class, not included with your Karate tuition, See Mr. Johnson)
Jiu-Jitsu.
No uniform or belts. class is a non-ranking class just for Team K2 students ages 14+ to learn some BJJ fundamentals including take downs, ground control and ground self-defense along with a few submissions. Every Friday at 7:30PM. Dress in K2 Tee shirt, karate pants or black work-out pants / tights. This class is included with your Karate tuition at no extra cost.
Note:
No drop-in classes or non-Team K2 students allowed in this class, enrolled students only.